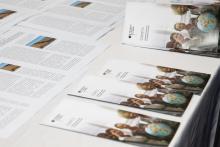 In compliance with the strategic goals of CLIENT II for a cross-national inter- and transdisciplinary cooperation, CASIB pursues the following lines of action:
Creating a network of projects, institutions, and commercial enterprises operating in Central Asia with German funding.

This mainly aims at creating the basis for the communication between different stakeholders, contributing to the achievement of cross-topic synergies, the definition of new fields of research, and, thereby, the promotion of innovations for sustainable development.

Supporting joint research projects, institutions, and commercial enterprises in cooperating with regional institutions and making project results public.

In doing so, we increase acceptance of measures and investments for sustainable development and the kinds of cooperation that overcome boundaries and, thereby, minimise (the potential for) conflicts. In order to achieve this, dialogue and agreements with a variety of local and regional stakeholder groups or representatives of political, economic, and scientific decision makers constitute a vital objective for CASIB.

Supporting German joint research projects regarding information and advice on legal or institutional framework.

This is meant to facilitate further measures of support and realisation, which, in turn, foster the practice-oriented implementation of project results related to sustainable innovations as well as the development and expansion of economic cooperations with German enterprises and which, moreover, open up new market opportunities.

Coordinating comprehensive networking- and transfer activities within and between the Central Asian republics as well as the southwest Siberian part of Russia and Mongolia.

By this means, the transnational interconnection of joint research activities, institutions, and commercial enterprises is intended to mutuallly improve to its fullest potential and become increasingly visible in the countries' immediate surroundings and beyond. This is expected to strengthen the innovative capacity of the aforementioned highly practice-oriented joint research projects. In this context, existing cooperations such as the one between the Martin Luther University (MLU) and two universities from the Altai Krai region as well as the local institute within the Russian Academy of Sciences (RAS) or the university agreement between MLU and the University of Ulan Bator (Mongolia) can act as multiplicators of networking and transnational research in the target region Central Asia/Mongolei.

Sythesis of project activities and -results.

Synergy effects, above all, but also new challenges and fields of operation for German institutions from research, business, and education need to be identified - which goes hand in hand with a positive impact on (present and future) research and development projects, not to forget the further expansion of bi-/multilateral cooperations.

Development of a concept (business plan) for the permanent establishment of a German Innovation Centre for Central Asia...

... to stabilise the continuous support of German engagement for sustainable development in the target region Central Asia, including Mongolia and southwest Siberia.

Public relations

When working together with regional stakeholders, it is vital to make research and development projects visible to a large audience using the full spectrum of media channels. What must be highlighted are the merits of cooperation/collaboration between German and local partners, underlining the bi-/multilateral benefits.